Yoga Instruction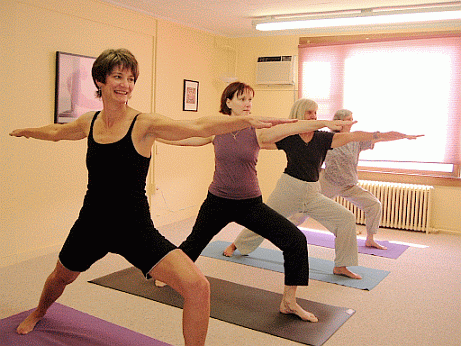 About Dean

Dean began the practice of hatha yoga in 1988 out of curiosity. This curiosity turned into taking a leave of absence from work to live in an ashram and study hatha yoga full time in 1992. After returning from the teaching residency Dean began what has been a continuous weekly teaching practice at the The St. Johnsbury Center for Well Being for the last 25 years.

Over the years as a result of studying with other teachers; Beryl Bender, Jonny Kest, Charles Matkin, Mark Whitwell, David Life & Sharon Gannon, Paul Grilley, Aadil Palkhivala and many others, Dean's class has evolved into a hybrid of many styles.


About Marci and Kundalini Yoga

Marci came to the practice of yoga through Dean's weekly Hatha class in 2012, looking for ways to deal with life's stresses. After a Kundalini workshop in Dean's studio in the summer of 2016, she began to explore this practice independently with online resources and manuals. She then went on to complete Level 1 (200-hour) Kundalini yoga teacher training at the Guru Ram Das Ashram in Millis, Massachusetts in June of 2018.

While finding aspects of Kundalini yoga daunting at first, Marci also experienced its deeply transformative benefits--moving from the chaos of "emotion and commotion," in the words of Yogi Bhajan, to a greater degree of inner calmness and even a newfound sense of joy in life. For this reason she continues to develop her own daily practice and is grateful for the opportunity to share these techniques with others.

The basic structure of every Kundalini class includes an exercise set (or "kriya"), deep relaxation, and silent or chanting meditation. Exercises can be physically demanding or more gentle and heart-centered. Marci's class will focus on the fundamentals of this practice for the first few months and calibrate the intensity level based on student needs. No prior experience required. Just an open mind to try the experience and a little fearlessness.


Anyone can do Kundalini yoga, with self-awareness regarding physical limitations and patience to build skills gradually over time;


Anyone can learn to chant, with deep listening and the willingness to use your own voice;


Anyone can meditate, with a little training and the discipline to keep coming back to it again and again.
"It's not the life that matters, it's the courage that you bring to it." --Yogi Bhajan
Please email Marci directly with any questions at: nekundalini@yahoo.com


For more information on Kundalini yoga, see: https://www.3ho.org/kundalini-yoga



Yoga Schedule for July 2020




Kundalini with Marci

Sundays
11:00 AM-12:30 PM




---

"Each time you judge yourself you break your own heart."
    -Bapuji


---

"Yogic practice is about getting under the moment or activity."
    -Stephen Cope


---

"Without self-acceptance there can be no accurate self-observation."
    -Stephen Cope


---
 
"All spiritual journeys have a destination of which the traveller is unaware."
    -Martin Buber


---
 
"In the final analysis, it is wise to remember that in our vision of yoga, as in our vision of all things, we see the world not as it is, but as we are."
    -Stephen Cope
---
Click on the image below to go to
more information on Neurofeedback.